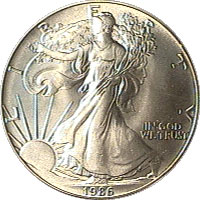 Silver rocks on
Every once in a while, I break my own arm patting myself on the back:
SAN FRANCISCO (MarketWatch) -- Silver futures closed at a fresh 22-year high Friday, up more than 4% for the week with the gains tied to expectations that an exchange-traded fund based on the metal will soon be launched...

The May contract for silver closed at $10.235 an ounce on the New York Mercantile Exchange, up 2.7 cents, following an earlier rise to $10.31, a level not seen since at least 1984.
At one time this blog (or at least its predecessor on Blog City) was pretty much dedicated to silver. That was back when silver was half its present price. Luckily for silver bugs, nothing has really changed, except my desire not to bore my readers by endless repetition of the same theme.
Oh, the price has doubled, but that was inevitable - and if you learn only one thing about the investing strategy I follow, learn that I only bet on the inevitable...it's safer that way. What has not changed is any of the reasons that silver will rise further: there is still a silver deficit, silver is still a byproduct metal, and silver is still far below its historic ratio with gold. In fact, if gold were to keep its present price and silver to regain its historical ratio in the 12-1 or 16-1 range, silver would be priced north of $30 an ounce instead of today's $10. This kind of opportunity is literally once in a lifetime.
But this is not an effort to get you to buy silver. I'll gladly admit that I haven't bought any physical silver since it was half its current price. If I were a financial advisor, I would advise my clients to wait for the next pullback where everyone gets negative on silver and buy then. But that's not my job. I manage databases, so what do I know?
But what this is is an affort to illustrate how certain outcomes are inevitable based on certain actions. Silver was bound to double (as it's bound to double from here and maybe double twice again after that) because as I said
three years ago
, certain actions have inevitable consequences. Some people pooh-poohed and some said I was bearish on America, as if the fact that I said the dollar would be destroyed by over-creation was a wish for the same. I want to stop the over-creation, but GWB has other ideas and he's the president. Thus we are left to prepare for the consequences.
Now that both gold and silver are at quarter-century highs (and everything else that's not a dollar - like food and houses - are at all time highs) it may seem like a bad idea to trade dollars for other things - "buy low sell high" being a perfectly rational investment strategy. And it would be, if the powers that define the dollar were committed to maintaining its value.
But they are not. In fact, they are doing the opposite:
The Bush administration has been pushing China for the past two years to let its yuan currency appreciate and is widely thought to be moving toward designating China a currency manipulator this spring unless Beijing speeds up its move.
To let the yuan appreciate means to let the dollar further fall, and such is the official policy of the US government. If the dollar falls, then everything that is not a dollar goes up by default. Ergo, it is the official policy of the US government that will raise the price of silver.
Invest in the inevitable. No one ever went broke betting on the monetary incompetence of those who think printed pieces of paper hold value in the long run.