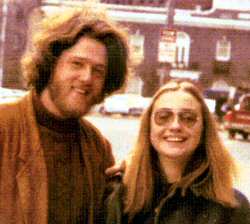 A Marriage made in Arkansas
Hillary Clinton, a leading opponent of DP World's takeover of some US port operations, was this week forced to admit that she did not know her husband had advised Dubai leaders on how to handle the growing dispute.

But former President Bill Clinton's ties to Dubai and the United Arab Emirates should not have come as a surprise to his New York senator wife.
All I can say is, "Yeah, right."
If there was ever an example of how both parties play both sides of every fence, this is it.