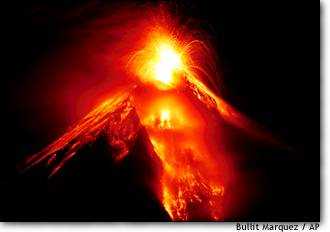 Another re-write
University of Leicester geologists, Professor Andy Saunders and Dr Marc Reichow, are taking a fresh look at what may actually have wiped out the dinosaurs 65 million years ago and caused other similarly cataclysmic events, aware they may end up exploding a few popular myths.

The idea that meteorite impacts caused mass extinctions has been in vogue over the last 25 years, since Louis Alverez's research team in Berkeley, California published their work about an extraterrestrial iridium anomaly found in 65-million-year-old layers at the Cretaceous-Tertiary boundary. This anomaly only could be explained by an extraterrestrial source, a large meteorite, hitting the Earth and ultimately wiping the dinosaurs – and many other organisms - off the Earth's surface.

Professor Saunders commented:

"Impacts are suitably apocalyptic. They are the stuff of Hollywood. It seems that every kid's dinosaur book ends with a bang. But are they the real killers and are they solely responsible for every mass extinction on earth? There is scant evidence of impacts at the time of other major extinctions e.g., at the end of the Permian, 250 million years ago, and at the end of the Triassic, 200 million years ago. The evidence that has been found does not seem large enough to have triggered an extinction at these times."
The key phrase, of course, being "in vogue." That the dinosaurs were wiped out by a meteor is one of things that's known by everyone today, though I'll admit I'm old enough that when I was a kid, everyone knew the dinosaurs were wiped out by mammals eating their eggs. Or maybe I just went to a bad school...our textbooks actually had pictures of the moon being birthed out of the Pacific Ocean basin, an impossibility we realize now that we've been there.
In both cases, in fact, in a lot of cases, there is "scant evidence" for what happened in the past. There's a theory that fits a few very important facts (while often ignoring others) better than prior theories, so it replaces the theory. That's how science is supposed to work. Then it catches the public imagination and becomes one of those things everyone knows and is afraid to question but that later generations laugh at. Everyone knows, but much of it ain't so.
In reality, Science is done by men so it works just like everything else - like business, like government, like religion: people are wedded to their ideas more fervently than their spouses, and it takes a new generation to arise and throw off those things that everyone knows. Francis Bacon noticed that the continents fit together in the 17th century, Wegener proposed a theory of Continental drift near the turn of the 20th. It wasn't until the 1950s, when the old generation of scientists died off, that Continental Drift became widely accepted. Of course, today it's one of those things everyone knows. Do you know the real evidence upon which it's based?
So science rolls on, with each generation both learning and unlearning, yet never coming to any final answers for the vast majority of things everyone knows. While we're waiting for our myths to be exploded, however, we can have some pretty cool fights over what 'science' is going to be taught in schools.