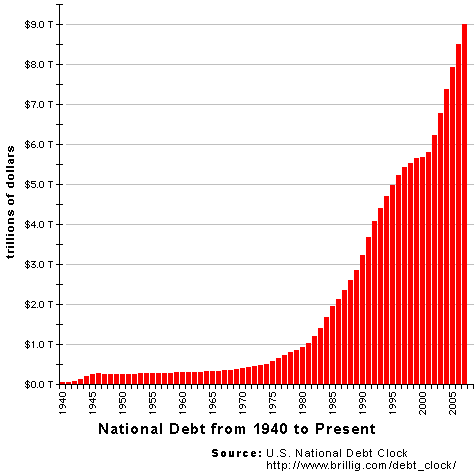 An Interesting Take on Debt
Whenever I get a particularly thorough and substantive response, I'll move it to the front page, not only so those looking can find it better, but so that it remains in the archives (Haloscan comments are not archived). I got one from Terminal-D, who takes issue with my complaints about Babs, thusly:
"I however am an economist and your assertion of the national debt never going down is wholly inaccurate..."
My assertion was this:
"
If one looks at actual numbers supplied by the
Treasury Departmen
t, it's obvious that since the debt has gone up every year since Reagan, so there was never an actual surplus, because by definition that would have made debt go down."
Now, when people talk about the national debt are they talking about the Fed's carry-over number, the National Debt outstanding as published by the Treasury Department, or are they talking about principal and excluding interest? I would suggest that my use of term in the same manner as the Treasury Dept (see chart, which shows the debt up every year) is the more accepted answer. If in any year, the government brought in more money than it spent, then one of two things must have occured. Either the debt must have gone down through expiration of notes/bills not re-issued, or a cash surplus would have accrued. Which is it?
I looked for the actual, year-on-year expenditures vs. revenue during Clinton's term and couldn't find it. If you have it, that certainly could add credence to the idea that there was a real surplus. Lacking that, the difference in actual debt outstanding year-on-year points to continuing deficits.
One other issue to note is the curve. Under Clinton, the curve toward lessening deficits is evident. Under Bush, the resumption is obscene.
"the Federal governement under the leadership of Bill Clinton actually reduced the principal amount of the national debt for five consecutive years..."
Sorry, dude, I just don't see it. When interest is accrued, as it must be with an actual fiscal (not budgetary) deficit, it becomes principal. So all those pretty numbers from the Treasury Department went up every year because you simply can't exclude interest as a cost.
You say that the Gov't was "tracking" on a surplus. But that just means they were projecting current trends for the next decade (if not that, where do the estimates come from?) Since you're a history major, can you name a single government 10-year projection that has turned out to be accurate? I can't.
"
In RE to your lowering the bar w/ the Libby indictment when compared to the Clinton perjury charges - you are assuredly blind to the encompassing nature of what Libby did wrong.
"
If Libby had not done the exact things he was indicted for, what would have been the effect on National Security? I submit there would have been none.
To compare what Libby is actually accused of to what Clinton actually did and to come out with Libby being more important, sorry, that I can't buy. Everything a President does personally is an order of magnitude more important than what his staff does personally. And that's an order of magnitude more important than what his staff's staff does.
If someone had tried to defend Bush by saying, well, what VPGore's chief of staff did was the same thing, he would be rightly laughed off the internet. Same standard here.
"...before you start disecting my qualifications as you did B. Streisand"
You're an economist, so would you please explain Babs' statement that Bush
"...has taken our economy from the largest surplus in U.S. history to the largest deficit in U.S. history."
and explain it in small words while ensuring that words like 'economy' reflect their historical (you got that covered, too) usage? I'm unqualified, so type slowly as well, mmmkay? Thanks.
If it turns out that she really doesn't know what she's talking about, then what is the reason?
Copyright 2005 El Borak, inc. Makers of Burmese Solictor Trap brand porch trap doors. Sharpened wooden spikes sold separately.